This week's Obey print has just been previewed, Operation Oil Freedom. I have to say that I'm getting pretty sick of the same old routine from Obey, this one is tired. Two colorways, release time will be Tuesday at noon PST. As usual, please discuss this one, I'm always interested to see responses to Obey prints. Visit ObeyGiant.com tomorrow to purchase.
Here is a simple math equation:
PLUS
PLUS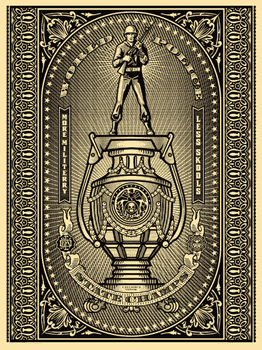 PLUS A BAD DRAWING OF A GAS NOZZLE
EQUALS
Maybe his message is that recycling makes lots of money?